Users
VIVE Administrators are able to add, delete, and modify user information within VIVE. Users are company employees that will have access to VIVE. To save a step, if an employee will be added as a user and a contact, this can be done simultaneously when adding a user.
Sign in to getVIVED.com by entering a valid email and password.
The client dashboard will appear.
Choose the "Admin" icon on the top right of the page and a dropdown menu will appear. Click on "My Users".
A list of all individuals with access to VIVE will appear. To modify or delete the contact, double click on the contacts name. Options to modify and save the individuals information appears. A "Delete Employee" button is also available.
To add a new user, click the "Add User" option on the right side of the screen, and the User Information screen will appear. All fields with a red

*

are required.
In order to invite a new user to register as a VIVE user, click on the "User Account" button. When this button is checked, the user will receive an email invitation inviting them to register with VIVE. Due to the high level of security that VIVE ensures, the user only has 12 hours to register with the temporary password.
Permission Groups
When adding a new user, a Permission Group must be chosen. VIVE allows for two distinct permission groups. Permission Groups allow you to set a series of rules which define what a user can see and do within VIVE. These two permission groups are Admin and Vendor and Sites Manager.
Admin: VIVE administrators have the highest level of access within VIVE. VIVE administrators have an interactive dashboard, are able to add a new vendor, waive a vendor's fee, remove vendors, view and receive status notices, add and remove users, modify company information, modify vendor compliance standards, view and print the signed VIVE vendor agreement and W9, rate and view vendor ratings, mark a vendor as a preferred vendor, import vendors from accounting if client's accounting software is integrated with VIVE, and view exempt vendors.
Vendor and Sites Manager: VIVE managers have many capabilities to search for vendors, but they do not have the full access of VIVE administrators. VIVE managers have access to an interactive dashboard, are able to access a vendor table which allows for many options to search for vendors, and provides information regarding the status of vendors, rate and view vendor ratings, mark a vendor as a preferred vendor, and run reports. VIVE managers are able to view information about their specific site.
_____________________________________________________________________________
Figure 2.1 User Information

______________________________________________________________________________
If your company has Sites in VIVE, upon clicking "Save", you will need to choose which Sites the manager will be able to view when they log into VIVE. You may choose to provide the manager with visibility to all Sites by clicking the top left checkbox. All Sites will be highlighted. Or you may click on the checkbox to the left of the specific site(s) name if you want the manager to view only the Sites they specifically work with. Click Save and an email will be sent to the user asking them to log into VIVE and create a password.
New users will need to validate their email address within 12 hours for security purposes. If a new user does not validate their email address within the allotted 12-hour time period, the easiest way to log in is to have the user click on the "Forgot Password" option from the login screen. VIVE will resend the account link (See figure 2.2 Forgot Password)
______________________________________________________________________________
Figure 2.2 Forgot Password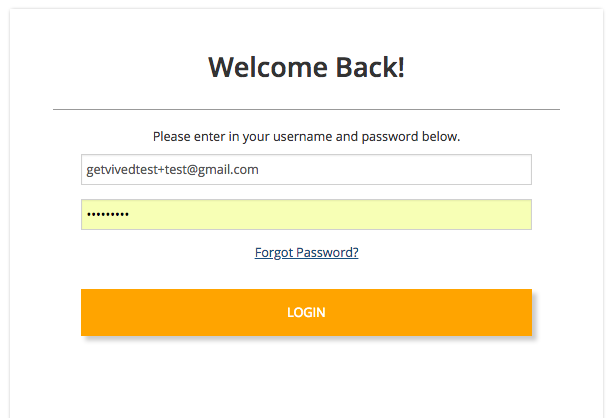 ______________________________________________________________________________