The tenth and final tab on the Vendor Details screen, is Admin. The Admin button is a permission based view only for Admin users. This admin section allows the user to perform several functions.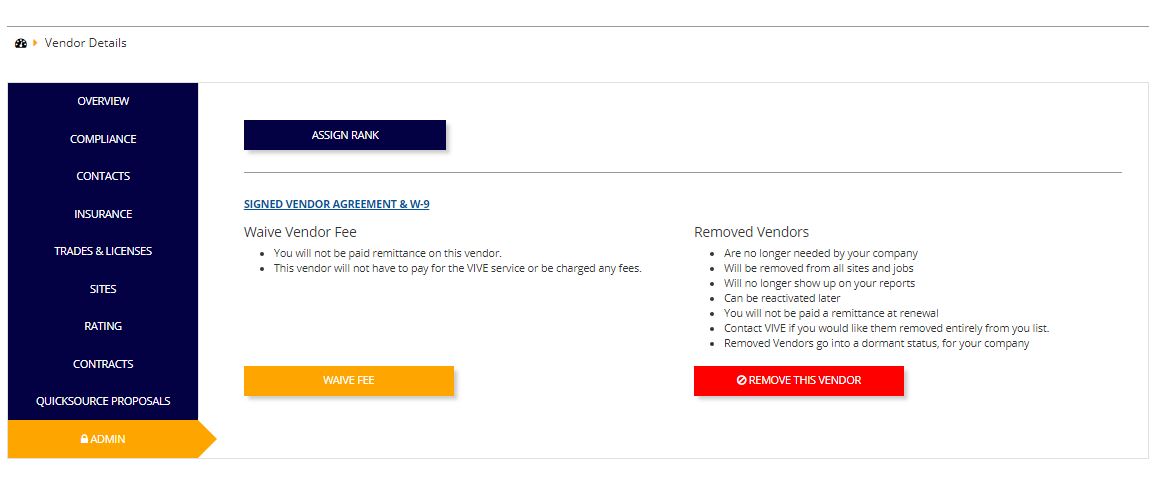 First, the user is able to choose the "Assign Rank" option for setting a vendor to a preferred vendor rank. To set a rank, choose the priority level and rank name in which to assign the vendor. Rankings are available only if the client has chosen to setup the preferred vendor setting. If no ranks are available, the client has chosen to not utilize the VIVE ranking capabilities.


The second function a user can perform on the Admin tab is to view the vendor agreement that the vendor signed when registering for VIVE along with the vendor's W-9. To view the vendor service agreement and W-9, choose the "Signed Vendor Agreement & W-9" hyperlink and both the vendor agreement and W-9 will be downloaded as a pdf file.


The third function available to the user is "Waive Fee". Each client is able to waive the VIVE service fee for a small number of vendors. When a vendor's fee has been waived, the vendor is still required to register for VIVE, submit all requirement information and documentation, and the vendor must meet all compliance requirements. But, the vendor will not be required to submit the VIVE service fee. Once the fee has been waived, the button will turn blue and will say "Un-waive Fee". If you no longer wish to waive the vendor's VIVE service fee, simple choose the "Un-waive Fee" button and the button will return to orange and will say "Waive Fee".
If the Waive Fee option is not available, the maximum number of fee waivers has been reached and further fee waivers cannot be provided.



The final function available under the Admin tab is the ability to remove a vendor. The option should be used sparingly as the vendor cannot be added back through the VIVE system. In order to re-add a vendor that has been removed, the user would need to contact VIVE directly. A VIVE customer service support member would assist in re-adding a vendor.
Once removed, the vendor will no longer appear anywhere within the VIVE application. Often "Inactiving" a vendor is a better option. The vendor will still appear but will have a status of "Inactive" which shows that the vendor is not approved and should not be allowed to enter property to perform work.
The remove vendor option should be used only when the vendor has been mistakenly added to the VIVE system entirely.
Once a user chooses the "Remove This Vendor" option, they will receive a warning message which asks if you are sure you wish to remove the vendor. Choose "Cancel" to cancel the removal action. The vendor will remain in VIVE. Choose "Ok" to remove the vendor from VIVE entirely.