Step 3: Trade & Licensing Information – This screen moves from Part A – to Part E. Each step must be completed before moving on to the next step.
One primary trade is required. Up to 10 Additional trades may be entered based upon the work your business performs.
If the state and/or local law in which your business is working requires a license for the entered trade, a business license will be required by VIVE. Please note: VIVE is not requiring a business license, but a professional or trade license. State and/or local law mandates what license type is required. At times, a business license doubles as a trade license. Failure to upload a valid professional or trade license will prevent VIVE from being able to approve your business.
Frequently Asked Questions
I don't believe I need a trade license but I'm being asked to upload a trade license: Please review the chosen trades. Some trade names are similar but have slight differences that may change the license requirement. Look for a trade that might better match the specific work your business performs.
How do I remove a trade: Click on either Primary Trade or Additional trades, depending on which trade you wish to remove. Search for the trade you want to remove. All chosen trades are highlighted in dark blue. Click on the trade name and the dark blue highlight will be removed. Save your information and that trade will no longer appear on your business's list of trades.
I'm unable to save my license: You must click on the button and locate a copy of your license. A license must be uploaded for all trades which require the license. Once all licenses are uploaded, You must click on the "Save Trade Licenses" button. Otherwise, the uploaded trade licenses will not be saved and you will not be able to move to the next screen.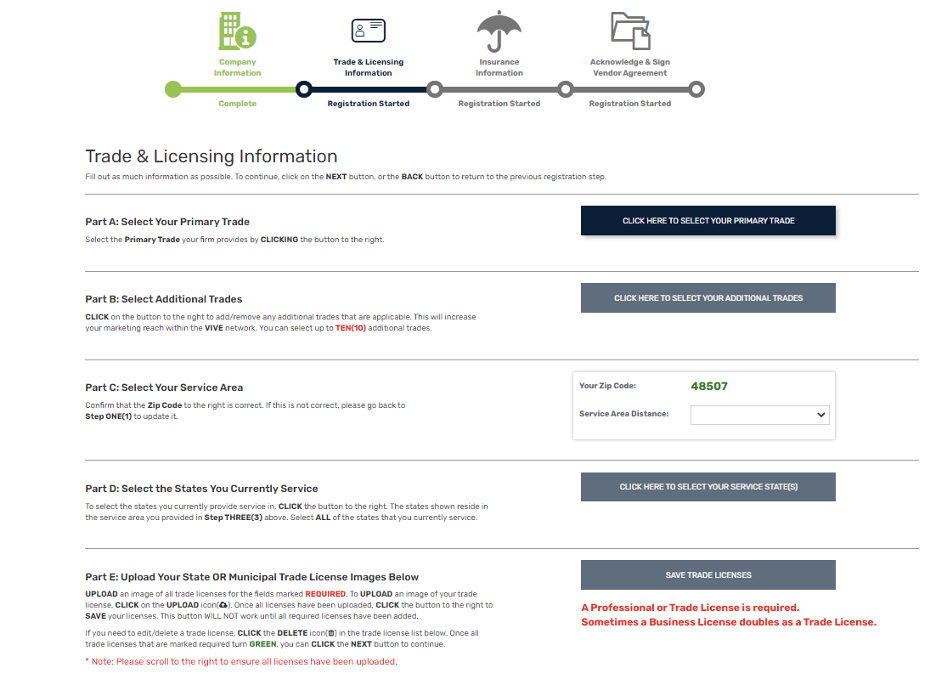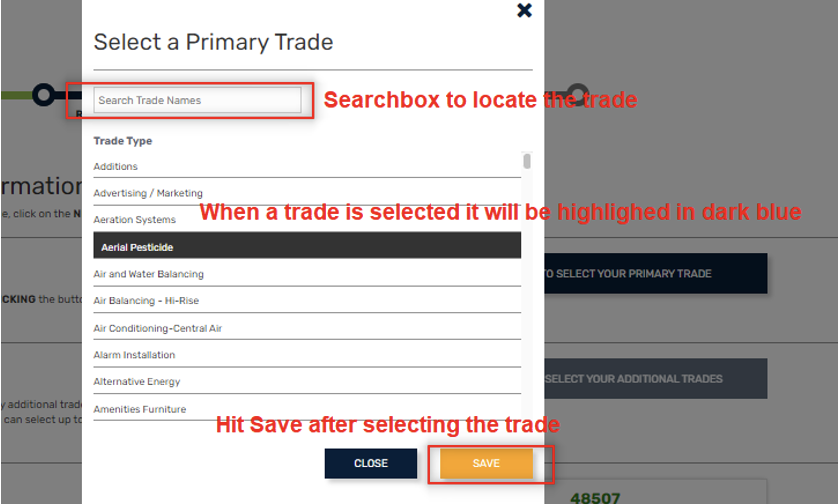 If a trade needs to be removed, click on the trade name again. The dark blue highlight will be removed. Click on the "Save" button to save your trade choices.